Expanding Your Reach
Web sites can enhance your company's image, improve client communication, sell your product, provide low cost marketing, and even serve as a communication portal for your employees and vendors. There are many benefits a web site can offer, but there are also a large number of challenges and questions that need to be answered to get a quality web site online. Questions such as:
How do I register my web site's name?
Where should I host my site?
Will I be able to maintain it myself?
Is it affordable?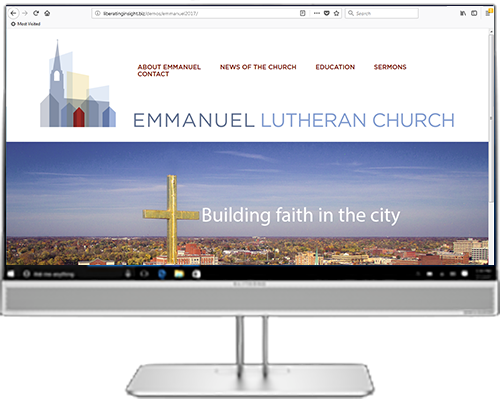 Example Site: Emmanuel Lutheran Church, Fort Wayne IN
In addition to the common technical questions, there is also the daunting task of finding someone whom you trust to develop and support your web site. Now the questions you may be asking might be some of the following:
Can I find a person in-town to work with?
Are they available full-time to work with me on the site?
Will they be around in 5 years?
Can they handle sites with dynamic content?
At Liberating Insight LLC, we are aware of your concerns and are willing to patiently guide you through the entire process. With our turn-key solutions we can take the worry out of website development and with our full-time commitment we are always there when you need us, whether that is for planning the content of the site or providing support during times of crisis. Best of all we are capable of supporting you as your needs grow offering a full complement of programming, dynamic content and hosting capabilities.